---
ESSE FG525
The FG525 Flueless gas stove brings the extraordinary benefits of catalytic technology to contemporary living spaces. This log effect gas stove does not require a flue giving you the freedom to locate it virtually anywhere.
By using the latest catalytic technology all burnt gas emissions are 'scrubbed' clean and leave the stove as warm clean air. In addition to ease of location, catalytic technology also offers 100% efficiency. No energy is wasted up a chimney, so all the heat generated warms your room which in turn lowers running costs.
A catalytic converter is not only environmentally friendly, but it can actually clean the air it uses. The high temperature catalytic process helps to remove odours in the home and neutralise airborne particles such as dust mites, creating a cleaner, healthier home environment.
The 525 stands solidly on 2″ full height stainless tubular steel legs, culminating at a steel top that has been laser cut to echo the curves of the legs. The result is a clean contemporary look with a softer edge and uncluttered view of the stunning log effect.


ESSE 525 GAS WITH FLUE
A contemporary stove constructed from high grade steel with stainless steel leg detail.
The gas Esse 525 with flue comes with a glowing coal effect fuel bed to give you a contemporary primary heating solution.
The 525 has been designed as a top flue exit appliance although it may be modified for a rear flue exit where fitting necessitates.
The stove gives a warming 3.5kW to the room.


GAZCO CERAMICA MANHATTAN
With superb contemporary styling and exclusive ceramic panelling, the Gas Ceramica Manhattan stove brings a colourful new dimension to home heating.
A finely detailed cast iron frame surrounds a panoramic window that allows you to enjoy a full picture of the flames.
A cast iron grille on the top of the stove allows warm air to flow into the room.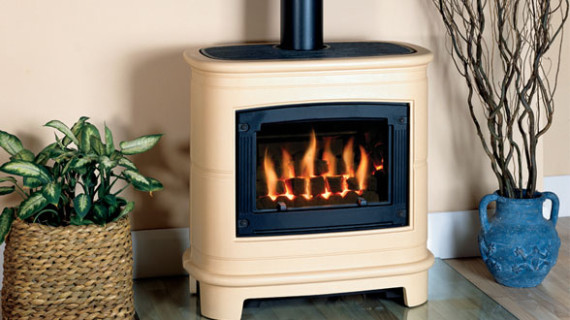 Options Include…

Coal effect
Log effect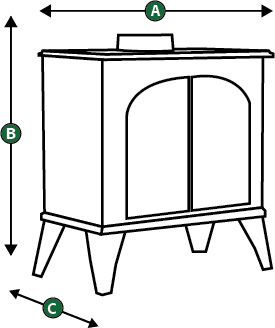 A =709mm
B =683mm
C =427mm
GAZCO GAS F40 AVANTI
This stove is designed to be a focal point in contemporary interiors. It is available in three versions: Avanti, Avanti Midi and Avanti Highline.
Each version has the same excellent view of the realistic coal or log effect fire through a large glass window.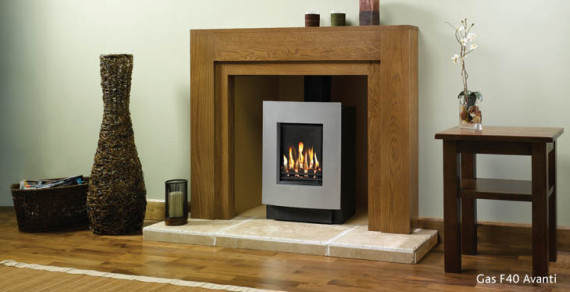 Options Include…

Iridium/Black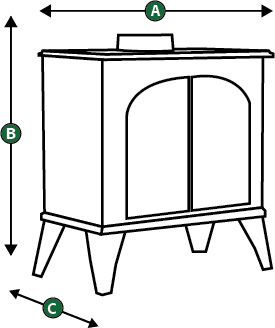 A =462mm
B =824mm
C =331mm
GAZCO GAS RIVA VISION LARGE
The Gas Riva Vision stove has an interesting glass-fronted door and glass plinth to make it perfect for any contemporary environment and ideal as the main focal point of a room.
This gas stove is available with the options of  white stone or log-effect fuel bed. As well as the choice of conventional or balanced flue installations.
Gas Riva Vision has a sequential remote control which gives you total control of the stove from igniting your stove to actually programming the thermostatic and use of the timer controls, meaning you don't have to move an inch.
Interior designs can be increase by opting for perhaps a contemporary stove bench or black gloss flue pipe (with conventional flue only). These are the perfect complement to this modern, in-style stove.
Available in sizes Small, Midi and Large. All sizes are available with a highly realistic log effect fuel bed and  specifically the Large is also available with a White stones fuel bed for a more up and coming vibe.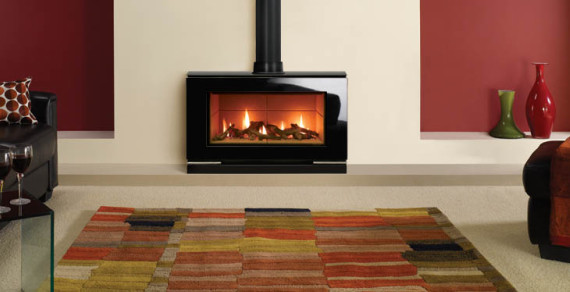 Options Include…

Black Glass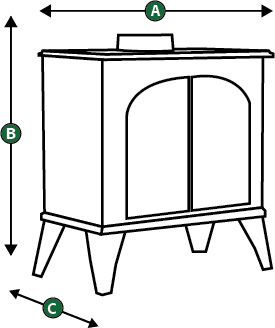 A =876mm
B =587mm
C =375mm
GAZCO GAS STEEL MANHATTAN
The steel version of the Manhattan stove has been specially designed to co-ordinate with today's contemporary interiors. With style and precision engineering, this gas stove will become an outstanding focal point in any room.
It is available in two sizes and two finishes, with the additional choice of coal or log effect fuel beds.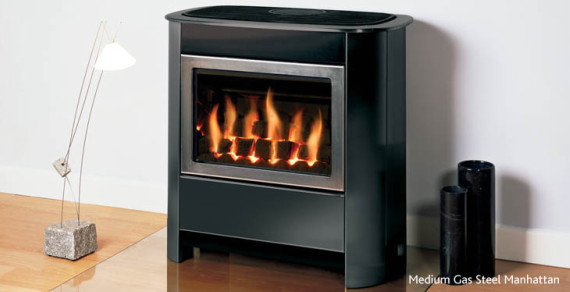 Options Include…

Anthracite
Brushed Stainless Steel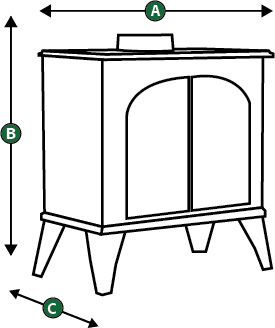 A =709mm
B =683mm
C =427mm